Retaining Walls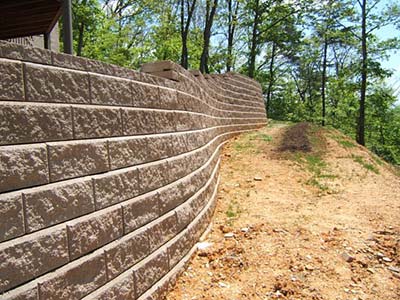 Most people wonder whether they need retaining walls built on their property. While these may not be necessary for all properties, some land has a lot of slopes or grading. This makes it very difficult for landscapers to design functional spaces. For instance, there could be a slope in the exact spot where a patio kitchen or a driveway has to be built. This is when retaining walls are built to support the landscaping or to prevent soil erosion.
Neal Ragan Construction, Inc. provides excellent paver installation solutions to customers across Johnson City, Kingsport, Bristol and Mountain City, TN; with offices in Damascus and Abingdon, VA.
Retaining Wall
A retaining wall is typically a wall that is specially-engineered to provide some stability to a garden or yard space. These have to be designed and planned with care and most landscaping companies have expertly trained personnel that exclusively build retaining walls. You can choose from a variety of retaining wall materials such as poured concrete, blocks, CMUs, natural stone or brick.
Retaining Wall Blocks
These wall blocks are made of concrete and are commonly used in the construction of retaining walls. Since they are modular and large in size, the installation becomes very cost-effective. They are very low maintenance walls that can also be clad with stone veneer to make them look more attractive. Today, a number of companies manufacture retaining wall systems which can be built in a number of ways to create drama in a landscape.
Concrete Blocks
Concrete blocks are an ideal material for building retaining walls. These blocks are easy to install and they have a stackable design which reduces the labor cost of the structure. Many people aren't too impressed with the thought of having concrete walls in their landscape. If that is the case, you can get stone or brick veneer installed over the concrete.
Building A Retaining Wall
Building a retaining wall is a highly specialized job and only highly skilled and trained masons can handle that work. Materials such as brick, mortar, natural stone as well as CMUs and modular concrete blocks may be used in the work. A well-built retaining wall, adds to the stability of your landscape and helps prevent soil erosion. When a good landscaping contractor handles this job, they focus on using the best materials and workmanship in the work and this ensures the longevity of the structure.
Retaining Wall Design
Retaining walls are specially engineered walls that have to be designed and built by expert masons, as the primary objective for building them is to support the landscape. However, it is possible to make them look more attractive. Simple things like adding veneer to concrete retaining walls, or building artistic dry stone stacked walls or even walls with in-built seating, is a great way to add to the design aspect of this feature.
It's a good idea to hire a well-established landscaping company like Neal Ragan Construction, Inc. for installation of retaining walls. This ensures you have outdoor spaces you will be encouraged to use more.
"MORE ARTICLES"
Pavers
Landscape Contractor
Home Builder
Remodeling